Michal Shimoni, artist, art teacher, and online 
art courses facilitator in Flora Aube`s 
"Art of Allowing Academy'.
Her art expresses deep dreamtime realities
exploring inner symbols and consciousness raising.
She is invited to exhibit and teach around the world.

She was born in 1960
Studied art from a young age in different
academies and art teachers.
Art is my medicine I need to take as often as possible. 
It is also the medicine I have to give, by sharing my art and facilitating the space for others to practice.
 
I started my formal art education at age 14 and continued in established Art Academies for Fine Art and Art Therapy.
I exhibit in shows around the world, and teach art to children and adults. 

I have evolved so that my paintings today come from an inner well, no planning, just opening and listening to what wants to come through me.
It is a process of discovery in which I can find myself crying in awe. After studying art for many years it was a journey to find my way back to my true voice, my inner vision.

I am grateful to be where I am now finding my joy in art and helping others find it.
A painting from my Mother Earth E-Course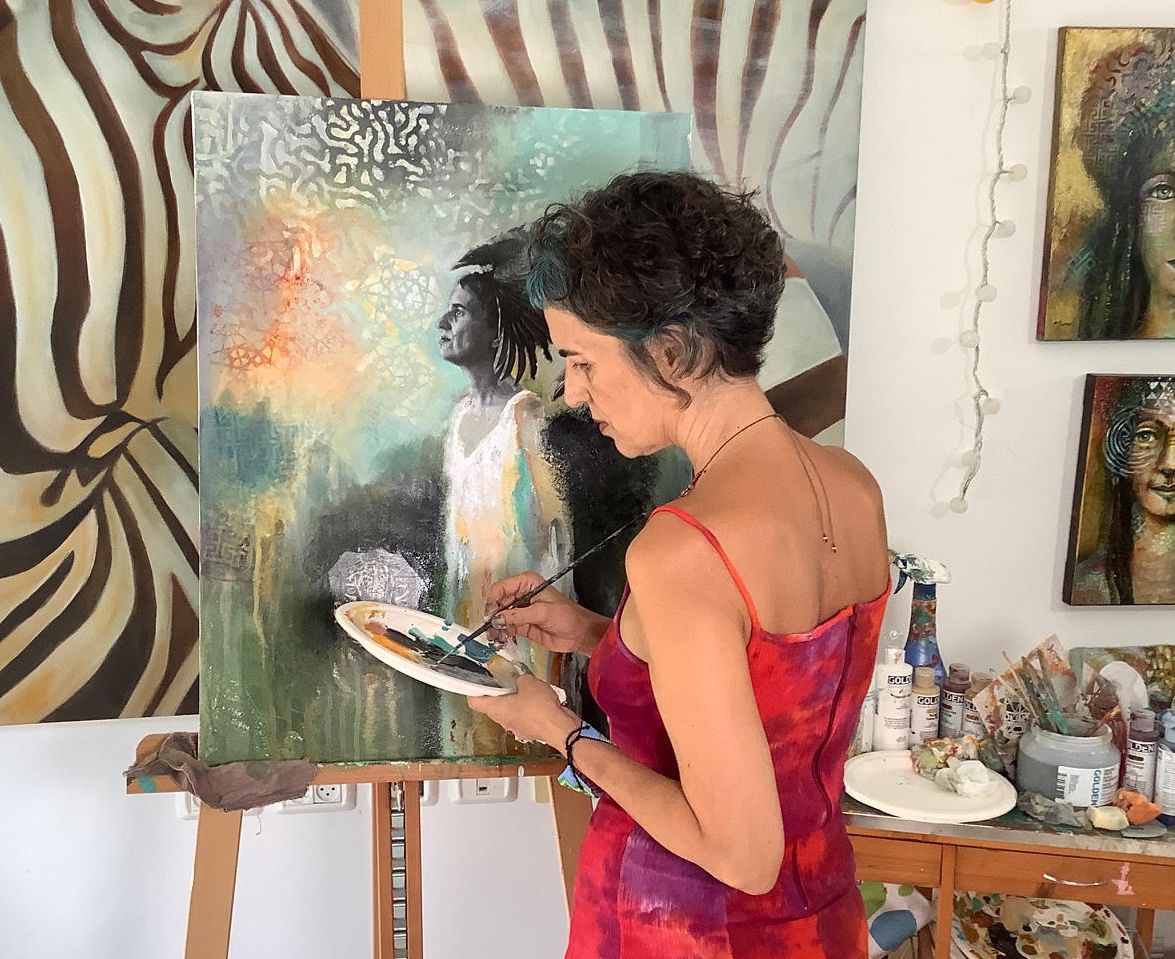 Avni art school, Israel – 1979 , 1987
Art Academy of Ramat Gan , Israel – 1984
College of Marin – with Carol Levy, U.S.A – 1993-1994 
Hamidrasha Academy for art teachers, 
Ramat Hasharon ,Israel- 1996-1998
Art of Allowing academy– 2014-2017
And many art courses with different artists 
Exhibitions
2023 Art Achsania, Rosh Pina
Portrait- group exhibition
2014, December 12th – 31st
CROATIA,
Slavonski Brod – Gallery Antique, Exhibition
 "WAG International Artists"
2014, December 4th – 23rd
AUSTRIA,
Vienna – Palais Porcia, Exhibition
"WAG Fundus Ausstellung"
2014, January 16th – February 11th
HUNGARY, Pecs – Croatian Theater Gallery, Exhibition "WAG Collection", organization by WAG HQ

2013-2015 World art games Croatia
International art exhibitions and collaboration
in museums of 4 cities-Ludbreg,Umag,Vucuver
Second salon, Business Art "Nude and Erotica"
14-17 Oct. 2010
L'Espace Pierre Cardin ,Paris,France
Salon D'art Contemporain Nature – Animaux
22 au 25 Avril 2010 au Casino Palm Beach, pointe Croisette, CANNES
France
"Muse" – Jaffa Museum. 2-24/1/10
G'erar Bachar gallery – Jerusalem . group show 29/12/09-12/1/10
"Poetry in art " – Winner of that exhibition. Dec 09 Israel
Secret artist 4 – "Dec. 2009. Tel Aviv
Imagination 2009 – 2010- Hapoalim Bank, Tel Aviv 
22,2,2007 – Fundraising exhibition 
for victims of terrorism 
The Jewish center- 131 w86 st. Ny.Ny 
"Amaroo 2006" – Group show 
Sept. 2006 
Ivory's rock conference center, Queensland , Australia 
Israeli artists group show – Chantal gallery. 
895 Shotwell st. San Francisco – November 1992
Sheva – 7 Louie paster, Jaffa, Israel- May1999
Min Hon le Hon – Arabs and Jewish artist group 
show- September 2005